Disclosure: This shop has been compensated by Collective Bias, Inc. and its advertiser. All opinions are mine alone. #MakeGameTimeSaucy #CollectiveBias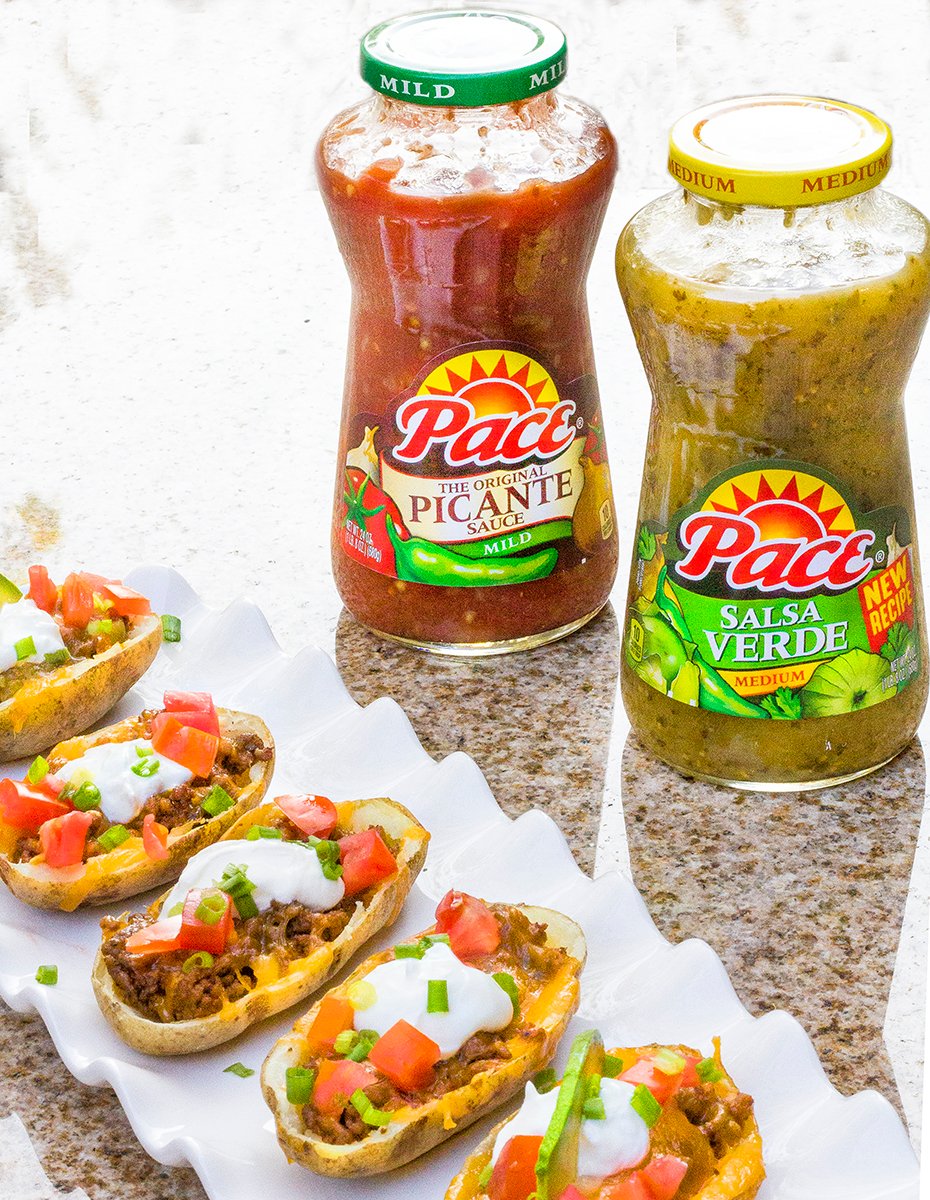 Ready to shop for delicious Pace® products? Hover over the photo to click through to Walmart.com and make a purchase!
Some people love Christmas, some people love Valentine's Day – me… I love fall! It has all of the best things: cooler weather, colorful leaves, pumpkin-smelling everything and FOOTBALL! And when I think of where to buy everything I need for my fall favorites, I think of Walmart!
To be completely honest, while I do enjoy watching football, my favorite part is really the FOOD that comes with football games! Burgers, hotdogs, nachos, potato skins… the food is delicious!
To kickoff football season, I decided to make Mexican Potato Skins!
If you haven't tried Mexican Potato Skins, you're going to love these! They are potato skins filled with seasoned ground beef topped with 24 oz. Pace® Picante Sauce and melted cheese – which gets baked until it's melty and delicious – then it gets topped with 24 oz. Pace® Salsa Verde, chopped tomatoes and green onions, a dollop of sour cream, and a slice of fresh avocado.
This dish has a few elements, but it is super easy to put together, and will WOW a crowd!
Homemade Mexican Potato Skins
Start by preheating your oven to 400 degrees.
Scrub 4 large potatoes, then rub with olive oil. Wrap in foil and bake in preheated oven for 60 minutes, or until soft.
Meanwhile, make a Taco Seasoning by combining:
1 tsp chili powder

1 tsp cumin

1/2 tsp salt

1/4 tsp garlic powder

1/4 tsp onion powder

1/4 paprika

1/8 tsp ground oregano
Add taco seasoning to ground beef mixture, and cook until no longer pink, and juices run clear.
Once potatoes are cooked, cut in half and scoop out most of the flesh of the potatoes:
Spoon in enough seasoned ground beef to fill the potato skin almost to the top:
Next, I love to add some genuine southwest flavor by topping it with 1 – 2 tbsp of Pace® Picante Sauce:
Then top it with a tablespoon or two of cheese:
Place potato skins on a baking sheet, and put in the oven (already at 400 degrees) for 3 – 5 minutes, until cheese is melted.
Then kick up the flavor by adding a couple tablespoons of Pace® Salsa Verde on top of the cheese!
Pace® Salsa Verde helps Ban the Bland and adds a tremendous amount of flavor and heat to dishes, which makes it perfect for these homemade Mexican potato skins! How are you going to ban the bland with Pace®? Get recipe inspiration here.
And add some sour cream, chopped tomatoes, green onions and avocados:
Homemade Mexican Potato Skins
Ingredients
4 large potatoes
2 tbsp olive oil
1 tsp chili powder
1/4 tsp garlic powder
1/4 tsp onion powder
1/4 tsp oregano
1/4 tsp paprika
1 tsp cumin
1/2 tsp salt
1 lb ground beef
1/2 cup Pace® Picante Sauce
1 cup cheddar cheese, shredded
1/2 cup Pace® Salsa Verde
Garnishments: diced tomatoes, green onions, avocados, and sour cream
Instructions
Preheat oven to 400 degrees.
Rub potatoes in olive oil, wrap in foil, and bake for 1 hour, or until soft.
Meanwhile, combine chili, garlic and onion powder, oregano, paprika, cumin and salt in a bowl to make seasoning blend.
In a pan over medium heat, brown ground beef and add in seasoning blend, and cook until meat is cooked through and juices run clear.
Once potatoes are cooked, remove flesh. Add in each: 1/8 of the ground beef, 1/8 of the Pace® Picante Sauce and top with 1/8 of the cheese.
Bake in preheated oven for 3 - 5 minutes, until cheese is melted.
Top with Pace® Salsa Verde, diced tomatoes, chopped green onions and sliced avocados.
https://homemadeforelle.com/homemade-mexican-potato-skins/
My secret ingredient in these Mexican Potato Skins is Pace® Salsa Verde. Pace® has been trusted for 70 years for their southwest flavors!
These Mexican Potato Skins have quickly become favorites among my family and friends!
Where to Buy:
Every fall, I love buying all of my groceries and household supplies at Walmart! I know I can get the best prices on everything I need! Check out an awesome Ibotta® deal on Pace® products at Walmart! Earn $0.50 cash back with Ibotta® when you purchase a jar of Pace®! (Offer is valid on any ONE (1) 15 oz. or larger Pace® Salsa or Pace® Picante Sauce.)!
These homemade mexican potato skins are great for a party! Here is another great recipe for finger foods!