Need wedding gifts for foodies? I got you covered!
Buying wedding gifts can be challenging – you want to buy something thoughtful that the couple will love and remember for a long time.
Picking up wedding gifts for couples who don't register can make it even more challenging! And if you're buying gifts for foodies, it can seem even more daunting!
Well, if you're on the hunt for wedding gift ideas, you're in the right place! I happen to be a self-proclaimed foodie, who is getting married, and I've created a list of some amazing gifts for foodie couples.
Note: these also make great housewarming gifts for foodies!
Wedding Gifts for Foodies
Churro Maker
Gift this churro maker to anyone who loves sweet treats! It makes oil-free churros and comes with a free ebook full of recipes.
Sun Basket Gift Card
Giving the gift of healthy, easy to make meals for newly weds is a great option! Sun Basket is a meal kit delivery service specializing in organic produce and clean ingredients. I have subscribed to their meals and they're always high quality and delicious.
Family Recipe Cutting Board
Commemorate a special family recipe by having it engraved on a cutting board for newly weds! This custom-made engraved cutting board offers nostalgia, functionality, and it's a great price point at under $25.
Cheese of the Month Club
If you know a foodie who loves cheese (which, I feel is 95% of foodies) you can give them a subscription to the Cheese of the Month Club. They'll receive three premium cheeses totaling 1.5 lbs.
Sriracha Keychain
Shopping for someone who loves spicy food? Sriracha is an iconic sauce that many foodies (including myself) are obsessed with. Gift your foodie a Sriracha keychain so they can spice up their dishes anywhere they go!
William Sanoma Nesting Bakeware
This nesting bakeware from William Sanoma is as functional as it is beautiful. They're oven-to-table bakeware that are dishwasher safe and oven safe up to 425 degrees.
Foodie Dice
Foodie Dice, from Uncommon Goods, helps the seasoned or novice chef come up with new food combinations to keep things in the kitchen interesting!
There are five primary dice that offer protein, cooking methods, herb choices, grain/carb selection, and a bonus ingredient.
Wine Infused Salts
These wine-infused salts from Uncommon Goods feature a Chardonnay Lemon & Thyme salt, a Rose Rosemary salt, and a Pinot Noir & Fennel salt. Yum!
Cuisinart Wine Opener
If your foodie loves wine, giving them easier access to open wine bottles is a great gift option! My fiance bought me one of these for Christmas last year and it's one of the most useful gifts I've been given.
Wine of the Month Gift Card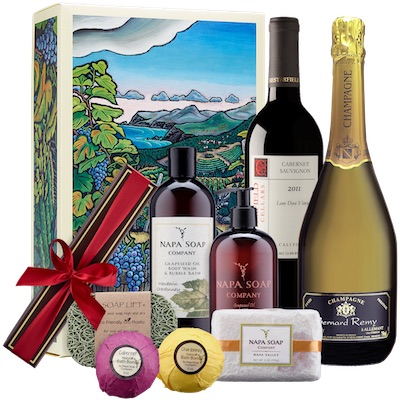 Another great gift option to give a wine lover is a gift card to the Wine of the Month club. You can give them a gift of a wine club, or wine gift boxes, that include packages like Two Delicious Cabs and Chocolate Truffles, or Wine Spa Day.
Sous Vide Cooker
For the groom or bride-to-be who loves to cook, a sous vide makes an excellent gift! This tool will help them achieve professional-level cooking at home.
Truffle Oil
Truffle oil imparts an intensely and unforgettable flavor in food. This truffle oil gift set includes White Truffle Oil, English Truffle Oil and Black Truffle Oil that will make most foodies drool!
The Gourmet Sea Salt Sampler
If your foodie has seen Salt, Fat, Acid on Netflix, they already know the importance of salt in creating delicious food. This gourmet sea salt sampler has 16 different sea salts from across the world.
My Recipe Journal
My Recipe Journal allows newly weds to try out new recipes and jot them down in a 100 page recipe journal. This is the perfect gift for couples who love to cook together, as they can chronicle their first year of marriage through recipes!
Swivel Cheese Board
This Swivel Cheese Board makes an excellent gift for any foodie who loves a good charcuterie board. It is compact for storage and even includes a 3 piece knife set. A perfect gift for couples who love entertaining!
The Flavor Bible
The Flavor Bible is an educational book for any home cook who wants to learn more about the nature of flavor and its role in cooing. It's one of my favorite books on my bookshelf.
Le Creuset Heart Casserole
Any food-loving newly weds would love to have this heart cocotte cast iron oven. This can be used on gas, electric, or induction tops, or an open fire.
I hope that gives you some great ideas for wedding gifts for foodies! If you have any additional ideas that I missed, please drop them in the comments below!